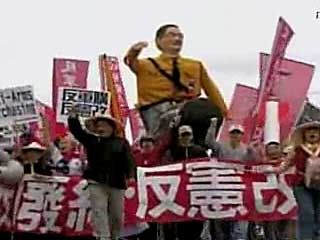 STOP_george posted
these photos from the march on Sunday
, in which pan-Blue supporters paraded an effigy of President Chen-as-Hitler. Ironically, caricaturing Chiang Kai-shek, who really was a murderous dictator in charge of a right-wing Leninist state, just like Adolf, would have gotten you a long prison sentence or worse under the KMT. Us KMT watchers have to purchase irony meters by the gross.....
UPDATE
: As a couple of posters at Forumosa noted, the idiots who designed the effigy got Hitler's swastikas on
backwards
.
UPDATE
: Comrade Stalin at Forumosa
posted these pics of Wego Chiang
, noting:

Although I posted these here 2 years ago in a different thread, they're still relevant. The KMT has

always

liked swastikas, Nazi trappings, salutes and goosestepping. Here are photos of Chiang Kai-shek's son Wego. He was in the Nazi 98th Gebirgsjaeger Regiment and served during the Anschluss. Looks pretty spiffy in his uniform, wouldn't you say?
*I've updated the link and the pics are all there. Thanks to STOP_george for the info and pics!
[Taiwan]
[Chen Shui-bian]
[KMT]